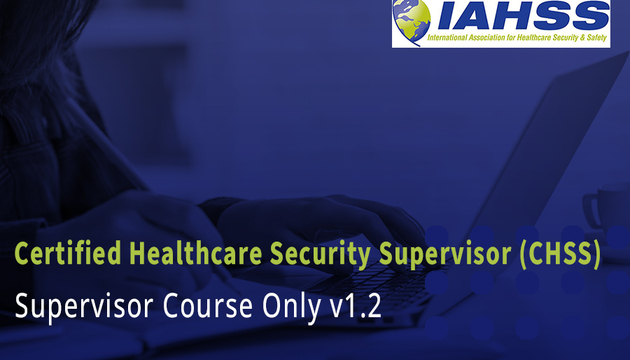 Supervisor eLearning Course (Version 1.2)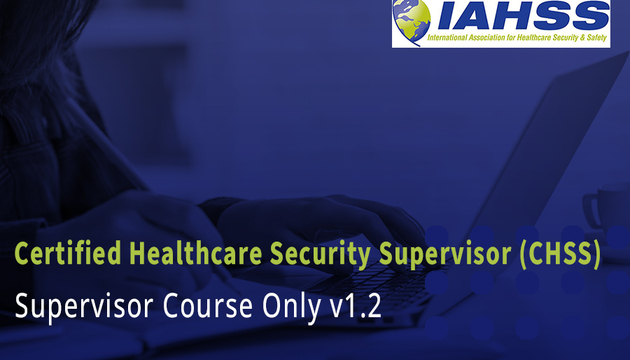 Description
The Supervisor level eLearning course builds upon the knowledge gained in both the Basic and Advanced level programs and is intended for healthcare security professionals with some level of supervisor responsibilities.
The study materials address the special needs of security in healthcare institutions including: crime prevention programs, training plans, security operations, emergency procedures and supervisor development.
Consists of 5 modules with several topics within each module
On average, take 7-8 hours to complete
Allows users to start and stop the course at their own convenience
Provides 24/7 access to your online training
Version 1.0 of the eLearning Course
What has changed?
As part of our ongoing commitment to inclusivity, diversity, and fostering a global perspective, the Advance and Supervisor online courses and exams have been updated to better reflect diverse perspectives, cultures, experience and backgrounds worldwide.
Embracing Global Diversity: Our course content was updated to be more inclusive and less centered around a single perspective. We updated the content to showcase a broader array of cultural influences, ensuring that all students, regardless of their background, feel connected and represented.
Diverse Images: We understand the importance of visual representation in learning materials. That's why we've taken the initiative to include a wide range of images, graphics, and illustrations that celebrate the diversity of the world.
Addressing Bias: Recognizing the presence of bias in educational materials is crucial. We are committed to addressing and rectifying any existing biases in our course content.
Fair and Inclusive Assessments: The exams were updated to assess your knowledge and skills without any unintentional bias. We want to ensure that your performance is evaluated solely on your merit and understanding of the subject matter.
IAHSS would like to thank the Education Council and Commission on Certification for their work on this update and for being a part of a journey towards a more inclusive and globally aware learning community.
IAHSS member feedback and support helped shape these changes, thank you!
All eLearning courses EXPIRE 1 year after purchase.
Learn More
Course Outline
Module 1 –Establishing Policies, Processes and Procedures
Module 2 – Selecting and Managing Employees
Module 3 – Developing and Managing Officer Training Programs
Module 4 - Mitigating Risks and Managing Incidents
Module 5 - Reviewing Reports and Making Informed Decisions